Description
FAYAMASK emergency kit is a personal fire survival pack designed for self-rescue to stay alive and keep breathing. The 'Personal Fire Survival Kit' is a portable plastic box suitable for wall mounting and It contains the following;
Fire Respiratory Emergency Smoke Hood.
Heat Reflective Blanket.
Heat Resistant Gloves.
LED flashlight.
Air Respiratory Mask. 
80% of most fire deaths in residential areas are caused by toxic smoke inhalation. Fire generates smoke and other highly toxic gases that include carbon monoxide, sulphur dioxide, hydrogen cyanide and hydrogen sulphide.
FAYAMASK Respiratory Emergency Smoke Hood (FRESH-60) is a filtering device specially designed to protect people threatened by smoke and gases generated by fires.  FRESH-60 provides effective protection for eyes, head and especially the respiratory tract, and designed for self-rescue with minimal risk.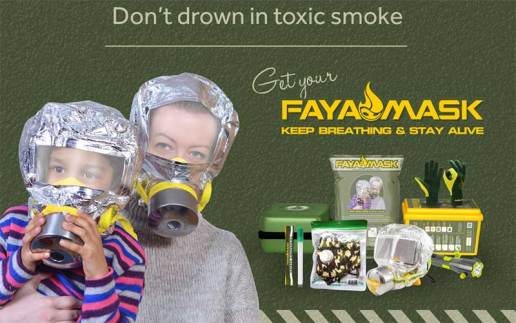 The mask is made of a silicone rubber that is fitted into a hood made of flame-resistant material.
The hood is designed for easy and quick wearing without prior adjustment.
The canister is equipped with a gas filter and particle filter provides short time protection against carbon monoxide and other toxic gases and particles that may be produced by a fire.
Safety Measures
FRESH-60 smoke hood is made from reflective and visible aluminium foil or Coated PVC flame-resistant material with a wide lens allowing a large field of vision. Inside the hood, a nose cup provides a perfect integration to different sizes of head and face and is directly connected to a multipurpose filter with a broad range of filtration. The hood is fitted with an exhalation valve to ease pressure and a neck elastic band to seal off external fumes while still providing comfort. The head straps are adjustable and also located outside the hood for easy pulling the nose cup close to the face. All the hood materials are heat and short flame resistant which includes hood material, visor, straps and canister.
Operating principle
Toxic fumes are filtered within the canister then delivers fresh air into the nose cup while exhale air is removed through exhaling vales.  The fresh-60 device becomes operational within seconds and works immediately without any other specific procedure. The EN 403:2004 harmonised standard service time for the filter is 15 minutes but the Fresh-60 filter works up to 60 minutes depending on the concentration of the pollutants. This time is adequate for escape from buildings under emergency conditions. The smoke hood is designed to be used only once. This way, the wearer is assured of the full performance capability of the filter.
Toxic smoke filtering to produce clean air for a minimum of 1 hour
Your head and face is protected by the heat reflective smoke hood
Clear visor protects your eyes from dense smoke and chemicals
Take less than 30 seconds to put on suitable from 3 years children and adults
Gloves, LED Flashlight, Respiratory Mask
Gloves

 - To protect hands from burning or holding hot objects due to the fire escape and minimise heat.

LED Flashlight

 - Light is very important during the escape, the flashlight will light up the way as you navigate or signal to get help

Respiratory mask-

 designed for respiratory protection and improved air quality during fire escape and smoky conditions but also help others who need to breathe.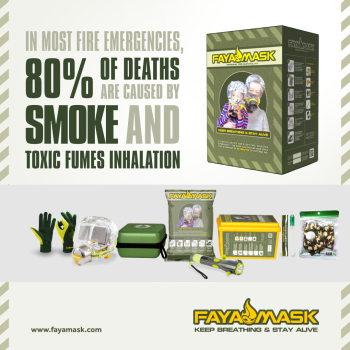 FIRE SAFETY TIPS
Keep calm and do not panic

Never leave a hot appliance unattended

Don't charge phone or mobile device overnight

Don't smoke indoors when feeling sleepy

Dispose of any naked fire

Check smoke and carbon monoxide detectors

Design a fire escape plan for your family

Keep breathing and stay alive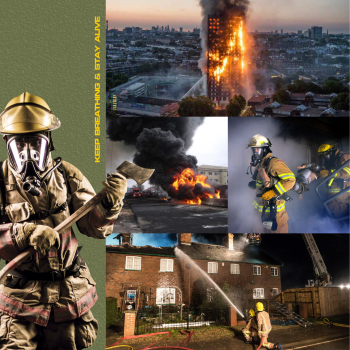 UNIQUE SELLING PROPOSITION
BUY WITH CONFIDENCE - WE OFFER A HIGH-LEVEL PRODUCT QUALITY.
At FAYAMASK we design and produce quality products and better customer experience.
Our competitive advantage includes product research, details and functionality to help save one life at a time.
FRESH-60 is mainly designed for self-escape and also evacuation teams during fire emergencies to help rescue vulnerable people including the unconscious. This is an essential device due to the fact clean air is the most important thing to any living human or animal.  The kit can be deployed in the following areas:
Public & Private Spaces

Homes, Apartments and Hotels
Office buildings, School, Hospitals and Factories
Shopping centres and multifunction centres
Cinemas, theatres, Religious Centres
Sports halls and Stadium
High Rise and Tall buildings
Underground parking

Transportation

Private transport- Vehicles
Public transport – Train, Ship, Coach, Airplane
Transport terminals – Airport, Rail, Bus Station
Tunnels and Bridges

Industrial

Manufacturing industry
Chemical industry
Mining industry

Rescue squads

Protection for firefighters in buildings
Protection of firefighters in burning forest or bushlands
Evacuation of rescue teams under special conditions

Police and military

Tank crews
Soldiers in bunkers and buildings
Special troops
Personnel of military bases and hospitals
Policemen
Easy Put on
FRESH-60 is preserved and packaged in a vacuum-sealed bag which is easy to tear open before donning but requires pulling the plugs in front and back of the canister.  The put-on technique is demonstrated on the vacuumed bag, after reading the instructions the user can tear open the sealed bag, unfold the hood, pulled over the head, the nose cup is fitted over nose and mouth, and adjusted the hood using the head harness.
Technical Data
Safety range: The canister filter installed on the FRESH-60 smoke hood protects against numerous pollutants. It removes toxic and eye-irritating fire smoke and gases from the inhaled air, such as carbon monoxide, acrolein, hydrogen chloride, hydrogen cyanide, sulphur dioxide and particles of dangerous substances.
The hood is for protection against toxic gases when oxygen levels in the environment are not less than 17 % volume portions and the ambient temperature is from 0 to +60 °С. The devices retain its filtration functions even after 200 °С temperature influence during 1 min and short-term influence of an open flame with temperature 800±50 °C during 5 seconds.
Frequently Asked Questions