Why Fayamask?
At FAYAMASK we design and produce quality products and better customer experience.
Our competitive advantage includes product research, details and functionality to help save one life at a time.
After extensive research, we have built a kit that contains the primary set of equipment one should need in case of fire disasters. We ensured that these will be reliable and easy to use.
FAYAMASK SURVIVAL WALL KIT FOR FIRE ESCAPE
FAYAMASK emergency kit is a personal fire survival pack designed for self-rescue to stay alive and keep breathing. The 'Personal Fire Survival Kit' is a portable plastic box suitable for wall mounting and It contains the following;
Fire Respiratory Emergency Smoke Hood.
Heat Reflective Blanket.
Heat Resistant Gloves.
LED flashlight.
Air Respiratory Mask.
FAYAMASK Fire Respiratory Emergency Smoke Hood (FRESH-60)
FAYAMASK Respiratory Emergency Smoke Hood (FRESH-60) is a filtering device specially designed to protect people threatened by smoke and gases generated by fires.  FRESH-60 provides effective protection for eyes, head and especially the respiratory tract, and designed for self-rescue with minimal risk.
The mask is made of a silicone rubber that is fitted into a hood made of flame-resistant material.
The hood is designed for easy and quick wearing without prior adjustment.
The canister is equipped with a gas filter and particle filter provides short time protection against carbon monoxide and other toxic gases and particles that may be produced by a fire.
FRESH-60 smoke hood is made from reflective and visible aluminum foil or Coated PVC flame-resistant material with a wide lens allowing a large field of vision. Inside the hood, a nose cup provides a perfect integration to different sizes of head and face and is directly connected to a multipurpose filter with a broad range of filtration.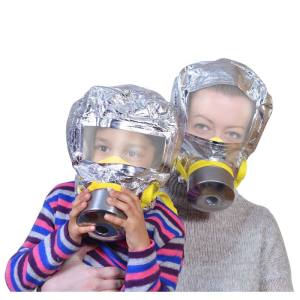 The hood is fitted with an exhalation valve to ease pressure and a neck elastic band to seal off external fumes while still providing comfort. The head straps are adjustable and also located outside the hood for easy pulling the nose cup close to the face. All the hood materials are heat and short flame resistant which includes hood material, visor, straps and canister.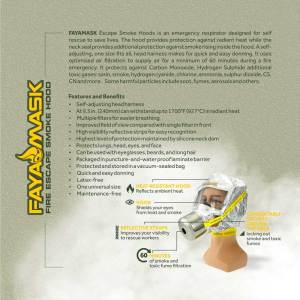 Toxic fumes are filtered within the canister then delivers fresh air into the nose cup while exhale air is removed through exhaling vales.  The fresh-60 device becomes operational within seconds and works immediately without any other specific procedure. The EN 403:2004 harmonized standard service time for the filter is 15 minutes but the Fresh-60 filter works up to 60 minutes depending on the concentration of the pollutants. This time is adequate for escape from buildings under emergency conditions. The smoke hood is designed to be used only once. This way, the wearer is assured of the full performance capability of the filter.
Toxic smoke filtering to produce clean air for a minimum of 1 hour
Your head and face is protected by the heat reflective smoke hood
Clear visor protects your eyes from dense smoke and chemicals
Take less than 30 seconds to put on and it is suitable for adults and children 3 yrs. and above.
FAYAMASK Heat Reflective Blanket
Blanket (Heat Reflective)- The reflective blankets will definitely reflect away heat radiations as you make your way out of the building. This blanket can also provide ample warmth and shelter once you are out there. The FAYAMASK Emergency Survival Mylar Thermal Blanket can increase your chances of survival in all weather, all seasons and all circumstances. It is made of durable insulating Mylar material designed by NASA for space exploration. It retains/reflects back 90% of body heat. It is reusable, waterproof and windproof.
FAYAMASK LED Flashlight

Light is very important during the escape; the flashlight will light up the way as you navigate or signal to get help. It comes with a Whistle, Thermometer, Compass, Reflector, LED Light, Magnifier and Container.
FAYAMASK Heat Resistant Gloves
To protect hands from burning or holding hot objects due to the fire escape and minimize heat.
FAYAMASK Air Respiratory Mask
Designed for respiratory protection and improved air quality during fire escape and smoky conditions but also help others who need to breathe.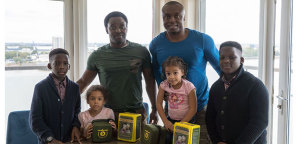 Our Code of Business Principles sets out our commitment to provide branded products and services that are safe, and to innovate based on sound science.
Consumers trust us to provide them and their families with safe and high-quality products. All of our products are designed and manufactured to be safe for their intended use.
We have mandatory policies and standards in place to ensure that we meet this commitment. Safety and product quality is an important and integral part of our product design.
In addition, Fayamask delivers for free in the UK. It also promises a Money Back Guarantee.
Get Yours Now!