HOW TO SURVIVE APARTMENT FIRE OUTBREAK?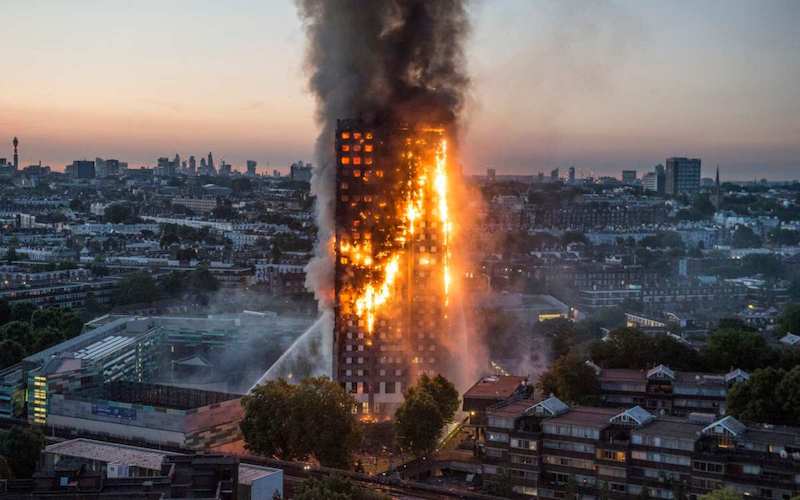 While living in an apartment, there are some challenges as well as survival tactics that you must encounter. Some of these are how to survive fire outbreaks. According to statistics done in England, the Fire Rescue Services had about 170,591 fire cases throughout 2017 up to September of the same year. As compared to cases from the previous year, there was a significant 9% decrease but in comparison to about 10 years ago, there was a general 49% decrease.
In 2017, the fire-related deaths were 346 having 71 of them specifically from Grenfell Tower Fire. When compared to the previous years this was a 37% increase considering that there were only 253 fire-related fatalities. The worst part about such scenarios is that they are never predictable, it could start in the building you are in anytime too. Even right now!
It has been noted that most fire outbreaks in tall buildings start right from the 6th-floor proceeding to the ground floor. This means that most people are likely to move towards the source of the fire unknowingly while trying to escape. This is not as easy to deal with as most people assume. At times it might be impossible to find an escape route.
Probably, at times you might feel that you have the best fire escape tactics just because you followed the fire safety checklist from the apartment to the letter. This is not always a guarantee, you could be trapped in the fire too and fall victim in a way you didn't expect.
The first step to a successful escape is avoiding panic attacks. This is the only way you could come up with a safe escape plan and save you plus your family. If you are well composed, you will be able to apply your survival skills effectively as well as take the required survival gear. This way you will be able to survive the whole situation.
This is what you are supposed to do in any case you get trapped in an apartment fire. Take a deep breath, get composed, evaluate the fire situation then apply the steps I'll break down for you below.
Steps to Incorporate to Survive Apartment Fire
1. Make sure all the doors between you and the fire are closed.
Basically combustion is supported by oxygen. In that case, if oxygen is minimized, the chances of the fire burning out is higher. Therefore, you should block any opening that may deliver oxygen in the burning section as well as lock out smoke from where you are. This requires you to shut all the window and doors that separate you and the fire. Most of you may view this as counterintuitive to close windows but trust me this one works.
2. Make a call to the Fire Department
After securing the premises from fire, the next thing should be to contact the fire department as soon as possible. Give them full details of your location, the floor you are trapped in and any other relevant details that would enable them access you with ease.
3. Seal up all cracks and Vents
Vents and cracks are no different from doors and windows. This means that they could let in oxygen to support burning. Reach out to any sheets or blankets available then dip them in water in either the sink or bathtub. You should then stuff the wet blankets to all the vents like air conditioners to lock out smoke as you wait for the team from the fire department to rescue you.
4. Send a signal to the rescuers
As much as people think that it is enough to make a call to the fire department, sending a signal is way more efficient. This helps them locate you more easily. You could try some ideas like using a flashlight, waving a bright coloured cloth or looking down through the windows and alerting them.
With this strategy however, be careful that not to let in smoke. That being the case, you could opt to hang a sheet on the outside of the window then close it.
5. Safeguard your lungs
Hot air and smoke rises up. This is the reason why you are required to stay low to the ground and crawl out of the fire outbreak sector. This reduces the intake of smoke. At other times, you could improvise a technique for filtering the air or use a Smoke Hood for Fire Escape if you experience difficulty when breathing. This will give you more time with filtered air as you wait for the fire department team.
You could improvise this with a wet cloth too in case you do of have the Hood to cover your nose and mouth.
6. The roof is a NO-GO ZONE
Before anything, you should understand that there is a big difference between what happens in movies and in real life. Going to the roof should be your last option if you are a victim of fire outbreak. This exposes you to all the smoke and fire from below. Also, you could limit the rescue options of the rescuers and end up getting stuck up there. The fact is that there have been very few successful rooftop rescues. Just avoid the balcony and roof top unless that's the only option you have.
In conclusion, you should know that getting trapped in fire outbreaks is a common scenario. Therefore, this guideline should give you basics on maximizing on your survival chances as well as that of your family if you ever become victimized.ecessities.